Intoxicating Indonesia
Incredible Indonesia, the planets 4th largest country is made up of a staggering 18 307 islands in Southeast Asia! With 139 volcanoes that have stirred major catastrophe in years past, has formed the backdrop to which this fascinating region has formed. Expect dramatic landscapes of rugged cliffs, an overwhelming overgrown green jungle mass, wildly beautiful dreamy beaches, sea spray and misty moments - welcome to Indo!
This intoxicating and intriguing country has been home to some of the greatest adventures on earth - journey from one rural tropical jungle (swinging orangutans and all), a quick tropical beach surf, to navigating through an urban populated mega city, one thing's for sure: you never know what's going to happen next. 
We've curated a selection of the 18 best places to stay, as a guide to help you get exploring and experiencing this fascinating cultural and natural treasure.  
1. Hideout Bali  
Hidden in the mountains of Gunung Agung volcano, Hideout Bali is an all-bamboo, authentic Balinese home, begging for the adventurous and creative at heart to discover this heavenly lifestyle.  This eco-stay abode is peacefully located alongside a river where villagers will frequent as part of their Balinese way of life - all part of being immersed in local culture. Adjacent to Hideout Bali are rice fields, keeping guests close to nature, and a little village only 500 meters away.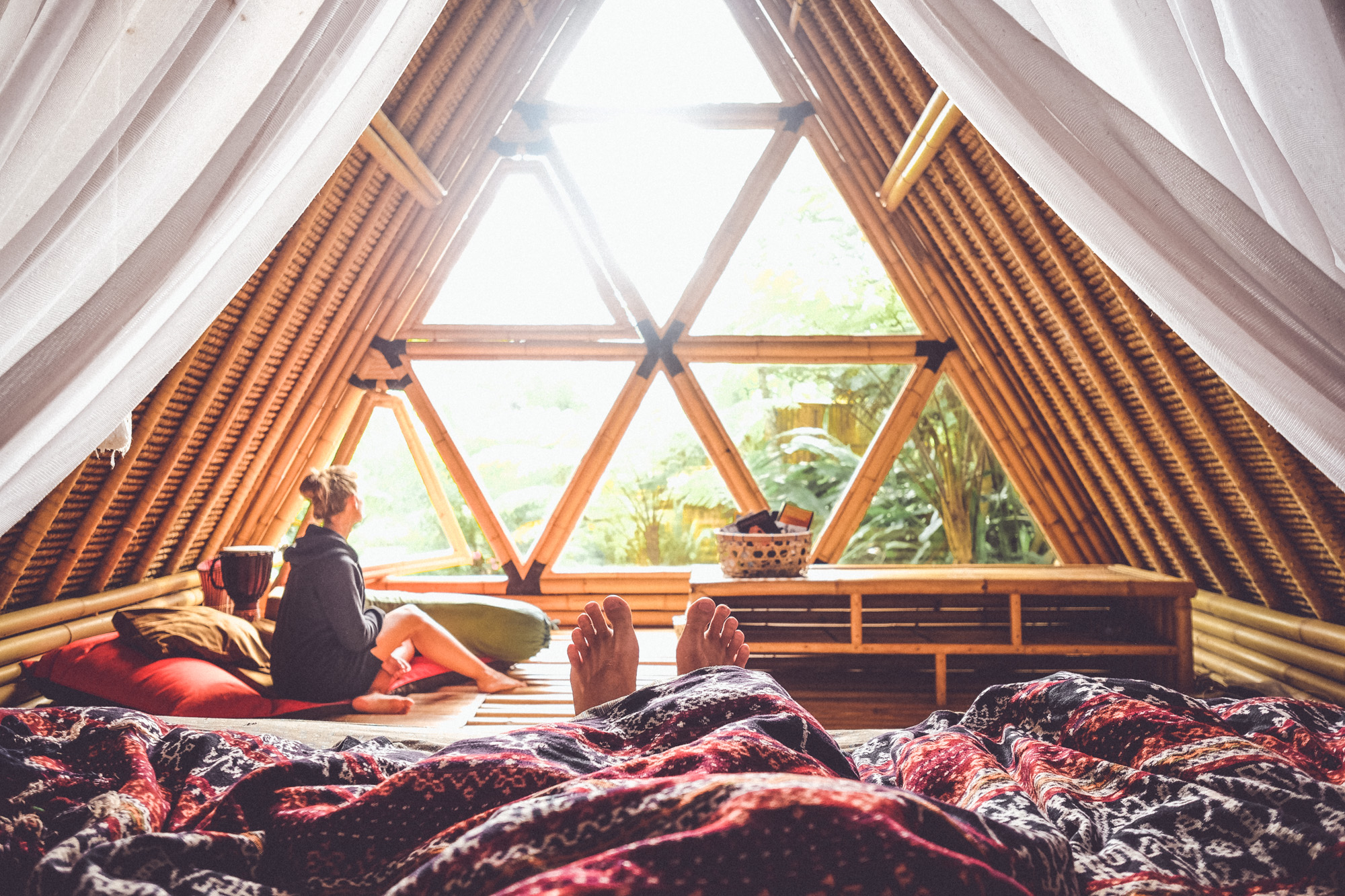 Website | Email hideoutbali@gmail.com 
2. Sandat Glamping Tents Boutique Hotel  
A truly unique experience in one of the most exclusive destinations in the green rice fields of Ubud id the Sandat Glamping Tents Boutique Hotel. Exotic charm greets guests at the very private and tranquil rice field themed destination, with only 8 luxurious eco-design structures (5 safari style tents overlooking the forest and surrounding tropical gardens, and 3 Lumbung which are 2 story thatch roofed barn-style dwellings which are evocatively romantic). Doing life underneath the Ubud starry skies is a spectacular experience - a place to fall in love. 

Website | Email sandatglamping@gmail.com | Tel +62 821 44081998
3. Arma Museum & Resort 
The beautiful Arma Museum & Resort, elegantly situated on 6 hectares of sensational Balinese gardens is a cultural and historical delight, seamlessly integrating art, architecture and culture in a sophisticated lifestyle. Their foundational philosophy is that of creating a balance between nature and man, and this is precisely what is delivered. The lush garden is immediately serene and tranquil to the senses. In the midst of this natural paradise is the Museum, which is actually so much more, where the finest balinese art is showcased, alongside cultural theatre, dance and music performances. A must-see destination while travelling through Indonesia. 
Website | Email sales@armabali.com | Tel +62 361976659
4. Kajane Yangloni 
Escape the Ubud chaos to Kajane Yangloni, only 5 minutes away. These are luxury wooden antique villas surrounded by Bali's iconic rice fields, presenting a wonderful opportunity to take time out of the busy Ubud life. In addition to the calming surroundings, they also offer a yoga studio and gym, to help keep you relaxed, restored and fit!  They are also committed to offering you the best deals by going direct, so it's definitely worth your while to bookmark this one!
Website | Email reservation@kajane.com | Tel +62 361972875
5. Kajane Mua 
In the centre of Ubud, find this restful retreat and tropical hideaway, the Kajane Mua, also part of the Kajane Portfolio. It's a perfect blend of modern amenities and traditional Balinese architecture providing an ideal base from which to explore this central region. They provide a wonderful shield from the hustle and bustle of their surrounding town, and are well equipped to host honeymooners, families and the like - all are welcome. Book direct for the best deals. 
Website | Email info@kajane.com | Tel +62 361972878
6. Kajane Tulamben  
Situated at the Paradise of Bali Divers, a virgin rocky beach on the east coast of Bali is Kajane Tulamben, the last of the Kajane portfolio. This is a small collection of exclusive luxurious antique villas and mansion rooms, providing an exceptional beachside vacation. Exceptionally furnished, spacious and allowing the balmy sea breeze to come through and refresh guests. Just less than 2 hours from the Ngurah Rai Airport, giving visitors a lovely chance to tour the region before arriving at the destination. 
Website | Email info@kajane.com | Tel +62 361972875
7. Fivelements, Bali  
This award-winning eco wellness retreat, Fivelements Bali, is situated on the banks of the beautiful Ayung River. Their focus is deeply rooted in the ancient traditions and philosophies of Bali, creating a peaceful sanctuary where living wholesome foods, sacred arts and Balinese healing are centre stage. The Balinese culture is the inspiration behind their 'living well' ethos, where a holistic integrative approach is designed to connect and organically heal the emotional, physical and spiritual levels of our being.
Website | Email contact@fivelements.org | Tel +62 361 469 260

8. One Eleven  
Arguably the most private sanctuary on the Seminyak side of Bali - discover the prestigious One Eleven private villas. These are not your typical Balinese style villas, but rather, they are extraordinary contemporary uber chic luxury abodes. Certainly a discerning and exclusive luxury Indonesian vacation. No Bali experience is complete without a spa - and theirs is set up to deliver extensive healing therapies to compliment their service offering. Interestingly, their on-site dining option is Japanese cuisine, in the form of Shiro, a sushi and sake bar. Bookings are recommended!  
Website | Email reservations@111resorts.com | Tel +62 361 731343
9. bvilla seminyak  
This is a collection of 1 to 5 bedroomed self catering villas in the heart of Seminyak, each with their own unique attributes- the bvillas seminyak. They are positioned in 3 different resort properties: bvilla & spa, bvilla & seaside & bvilla & pool. The style is spacious, modern contemporary and ideal for groups of varying size, as well as for couples. They feature large private swimming pools, in-villa breakfast dining as well as butler service on request. All the villa properties are within a 5 minute walk from the best shopping , restaurants and bars that Seminyak has to offer. 

Website | Email res@bvilla.com | Tel +62 361 736622
10. Saba Villas  
True to Indonesian nature, Saba Villas embodies relaxation, comfort, tranquility and seclusion, surrounded by rice paddies on Bali's south-west coast near Berawa Beach. Comprising of 5 individual, although inter-connectable 1 and 2 bedroom private villas, making a total of 9 generously sized bedrooms, well equipped kitchens, open sided dining and living pavilions, garden themed bathrooms, swimming pools, tropical gardens and one-of-a-kind local art pieces. The villas are professionally serviced including a chef and two excellent cooks who delight in creating delicious dishes from the centralised kitchen. On top of that you'll have full and free access to Finns Recreation Club which is nearby. Great value!

Website | Email info@sabavillasbali.com | Tel +62 812 3677 4004
11. Keraton at the Plaza - A Luxury Collection Hotel  
For those travellers wanting to be in the CBD of Jakarta, Indonesia's vibing capital home to over 9 million people... do yourself a favour and check into this luxurious high rise modern hotel, the Keraton at the Plaza, Jakarta. Standing proud and tall, it interconnects with the upmarket Plaza Indonesia Retail Complex, making shopping effortless and ridiculously convenient. Not to mention museums, cultural highlights, exquisite dining and vibrant nightlife are only steps away. This is grandscale and elegant hospitality with every bell and whistle you can think of. Ahhh.. much better:-)
Website | Email Res.Keraton@staystarwood.com | Tel +62 21 5068 0000

12. Jeeva Santai Villas  
We adore Jeeva Santai Villas because its barefoot luxury and local love all the way. Located on Mangsit Beach, Lombok, and blessed with some of the best sunsets in the entire world. A remarkably peaceful and private retreat, the Jeeva Santai Villas are a haven for those seeking privacy, solitude and wanting to immerse themselves in beauty, rest and effortless leisure time. They offer a selection of 14 suites and villas, and welcome guests from 13 years and up. A blissful Lombok discovery. 
Website | Email res.santai@jeevaresorts.com | Tel +62 370 6197123
13. Jeeva Beloam Beach Camp 
Stars. Surf. Sunshine. Serenity. What could actually top this 'off-the-grid' eco-centric private boutique beach camp experience, set on a secluded cove of two pristine white sandy beaches? We're talking 11 Pantai Berugas facing towards the Timor Sea from a sand dune overlooking a powdery dreamy beach, with crazy beautiful views across the Alas Strait to the Sumbawa island and sparkling Indian Ocean - an extraordinary natural setting guaranteed to take your breath away. Bucket list material;-)
Website | Email res.beloam@jeevaresorts.com | Tel +62 370693035

14. Jeeva Klui Resort  
The Jeeva Klui Resort is incredibly situated along an uninterrupted stretch of gently curving beach, and offers guests an exotic blend of seaside bliss, tropical paradise and endearing local culture, all beautifully framed in the natural beauty of Klui Beach. A stay at Jeeva Klui, which is the flagship of the Jeeva Resorts portfolio, will meet guests with the gracious Indonesian hospitality they are famous for - a true connection with the 'soul' of Indonesia, as their name aptly translates. 
Website | Email res.klui@jeevaresorts.com | Tel +62 370 693035
15. Wapa di Ume Resort  
The Wapa di Ume Resort is an exceptionally different resort, wonderfully hidden away from the crowds in Ubud, only 5 minutes away. An instantly relaxing atmosphere embodies guests with the green rice paddy fields encompassing the property, and the natural neutral tones of the interior decor.  What we especially love is their unique and luxurious 3 level uber modern Wapa Spa in the jungle and overlooking the rainforest - just so beautiful! Best yet is their authentic Balinese cooking classes - where they give away family secret recipes… it's just part of the charm:-)
Website | Email reservation@wapadiume.com | Tel +62 361 973178

16. Swiss-Belhotel Segara Resort & Spa  
Part of a leading worldwide hotel chain, the Swiss-Belhotel Segara Resort & Spa is conveniently situated in Bali Indonesia's premier tourism destination, the beautiful Nusa Dua Tourism Resort. The value is outstanding at this tropical 4-star rated resort, surrounded by landscaped gardens, generous sunbathing areas and two beautiful lagoon swimming pools. The emphasis here is very much on delivering an outstanding service to their guests, ensuring that relaxation is the order of the day. It is large enough to cater towards many different travelling needs, and remains an exceptionally affordable luxurious Bali experience.  

Website | Email segarabali@swiss-belhotel.com | Tel +62 361 8468288
17. Hotel Tjampuhan & Spa  
If there was one legendary hotel, this is it! The Hotel Tjampuhan & Spa, being a royal guesthouse, has hosted celebrities and inspired many foreign artists in days past, attracted no doubt by its breathtaking scenery, serenity and heritage. The property is a collection of bungalows, guest rooms, as well as the original home of German artist Walter Spies, lovingly located in a timeless landscaped natural paradise. It has the most beautiful swimming pool that is encased by green foliage… a heavenly retreat! 
Website | Email reservation@tjampuhan-bali.com | Tel +62 361 975368
18. Sens Hotel & Spa  
In downtown Ubud, we found this sublime 4 star boutique hotel, the Sens Hotel & Spa which stands out and apart with its attractive display of contemporary artwork and architecture, reflecting  the artisan heritage of Bali's cultural capital. They offer a comprehensive hospitality service to their guests, including mouth watering cuisine (served by the pool, in room or in their restaurant), a sensational spa, swimming pool, and gym. Stay at the heart of all the attractions within walking distance - a sensory overload! 
Website | Email reservations.ubud@senshotelsresorts.com | Tel +62 361 8493328
Please let us know when you'll be adventuring to this wanderlust paradise - we'd love to hear about it!